Wave Sports + Entertainment
"In my time working with Harbour, it has grown from a few part time users to a majority of our team being active users in Harbour for their day to day workflow. Whether you work in Content or Legal, Harbour has been a trusted partner when it comes to storing all of our content submissions, as well as being a Data Library for multiple departments across the company."
- Alex Randolph, Content Licensing Manager at WSE
---
Media company Wave Sports + Entertainment (WSE) is a leader in sports storytelling. Reaching over 110+ million followers with over 4 billion monthly views, WSE needed a faster way to secure content rights at scale. The WSE team approached Harbour to centralize and organize their inbound and outbound licensing agreements. Together we went a step further.
Embedded submission form
Harbour turned WSE's content licensing templates into fast, repeatable workflows. Growing outbound content licensing 10X in less than a year.




WSE's content submission page is powered by an embedded Harbour agreement workflow. The embedded workflow can be updated in real-time without any code.



Harbour keeps all of WSE's content automatically bundled together with their corresponding agreements for fast and secure rights management.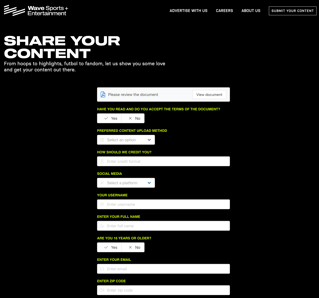 Harbour integrated with WSE to power an embedded content submission form directly on the WSE website. This allows any creator to upload their content, fill in required fields, and agree to WSE's Terms and Conditions. All of these content submissions are organized in WSE's centralized Harbour dashboard and folders. Each content submission is stored as a secure record in Harbour with the uploaded media file, content owner's information, Terms and Conditions, and audit trail automatically bundled together. As each Harbour account comes with unlimited users, the WSE team is easily able to share a folder of these submissions with other members of the team.
Using Harbour's integrations, each time new content is submitted through their embedded Harbour form, the WSE team receives Slack notifications and live-tracks new submissions through a Google Sheet. Using Harbour's best in class contract search engine, they are able to find submissions in seconds, including filtering by social handle and creator name. Every item is automatically tagged and can be found in seconds.
Head to WSE's content submission page to see this Harbour solution in action. Request a Harbour Demo to learn more about how Harbour can bring more speed and innovation to your contracts today.